Wine in Azores: more than a thousand wines to taste in São Miguel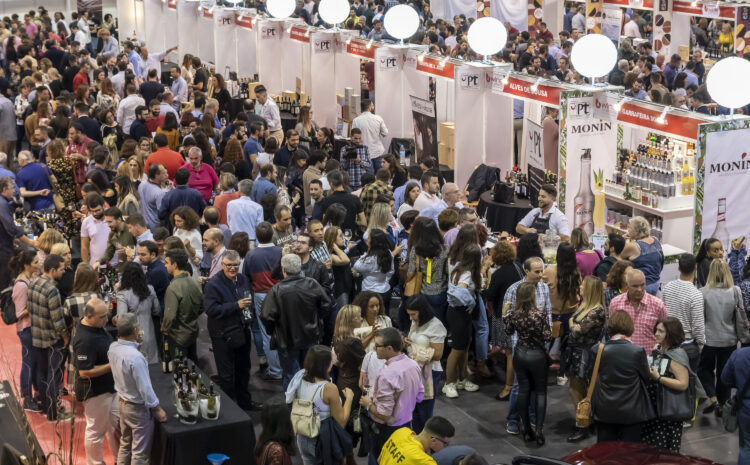 Wine in Azores, the largest business event in the Portuguese islands, will bring together hundreds of producers and more than a thousand wines in tasting.
Portugal is in the spotlight in the Wine in Azores 2022 edition. Wines from all regions, including the islands, with emphasis on Azorean wines, are present and the tasting is free. It will be three intense days, from November 4th to 6th, where there will be no lack of proposals that elevate the senses: wines and drinks, gastronomy and native flavors, show cooking and tastings, contests and parallel activities. The island of São Miguel is filled with aromas, colors, and flavors, celebrating the return to normality in the best way possible: with a gigantic toast!
On Friday the 4th, the event opens to the public at 6pm, and the previous hours are reserved to catering and hotel professionals; the tastings end at 10pm. On November 5 and 6, the doors open at 3pm with tastings running until 9pm, after which the food and wine area will continue to operate until midnight with show cooking and music. Tickets are available at BOL (https://www.bol.pt/) and can be purchased at the entrance of the event.
The gastronomy will have a special glow, since it will be represented by a beautiful panel of chefs: António Carvalho (Brasão – Felgueiras), António Loureiro (A Cozinha – Guimarães), António Vieira (Wish – Porto), Cláudio Pontes (São Miguel), Diogo Rocha (Mesa de Lemos – Viseu), José Júlio Vintém (Tombalobos – Portalegre), Paulo Mota (Saca-Rolhas – Ponta Delgada) and Renato Cunha (Ferrugem – Vila Nova de Famalicão) promise to delight everyone, teaching how to prepare recipes by sharing tastings. "Gastronomy and wine go hand in hand, so for us it is always very important to have good chefs at Wine in Azores. Having chefs with Michelin Star such as Chef António Loureiro or Chef Diogo Rocha, who year after year make a point of being present at our event, working with Azorean products, fills us with pride and motivates us to always want more and better" says Joaquim Coutinho Costa, from Gorgeous Azores, promoter of the event.
Eight Portuguese chefs together doing fire cooking
The eight chefs that make up the program will carry out a solidarity initiative. Together they will cook outdoors, with open fires and iron cauldrons. This is the great novelty of this Wine in Azores. It will be "an informal gastronomic exercise, interactive and sharing, in which the chefs will cook together, showing their gastronomic versatility, with comfort dishes that are part of the rural imaginary, resulting in popular-looking and absolutely sophisticated taste delicacies," says Chef Renato Cunha. The cooking work begins in the early afternoon, near the entrance of the Exhibition Park of São Miguel Island, in Ribeira Grande, and the tasting is scheduled between 7 pm and midnight. Small portions will be served, at €6 each, with €1 going to a humanitarian association in São Miguel. Wine is not to be missed! That's why there are several support bars on site with wines and other drinks.
Wine in Azores Design Awards – Paixão Pelo Vinho
Paixão Pelo Vinho magazine is associated with the event since its first edition and promotes the Wine in Azores Design Awards contest. All the wines presented in the event are automatically under evaluation by the jury panel gathered by the magazine and presided by its director, Maria Helena Duarte, who points out: "The image is the first invitation to taste a wine. A good label allied to quality is a guarantee of success for the brand". After evaluating the image of more than 1000 references, the 1st prize "Best Design", 2nd and 3rd prizes and two Honorable Mentions will be awarded. This will be the third edition and has a luxury partnership, since the awards were created by Coutale Portugal – Acessórios para Vinhos. The big winners will be announced on Sunday, November 6.
Best Wine in Azores Contest – Cegos por Provas
The group Cegos por Provas that, as in 2019, will promote a contest that will reward the best wines present at Wine in Azores 2022 – Best Wine in Azores. Saturday, the 5th, the results of the five categories in competition will be revealed: "Best Sparkling Wine"; "Best White" (awards the 3 best); "Best Rosé"; "Best Red Wine" (awards the 3 best); "Best Fortified/Naturally Sweet". The jury, made up of sommeliers, oenologists, producers and guest tasters, will be divided into 3 tasting tables (each table tasting ⅓ of the wines in competition), with a chairman of the table and at least one wine repeated on each table (to assess the fairness and calibration of the tasters). The five best whites and reds and the three best sparkling wines, rosés, and fortified wines will be subject to a final tasting by all the members of the jury.
Music and entertainment
It is also worth mentioning the focus on musical entertainment after the tasting period. On Friday the Wine in Azores stage will feature the band Oceanus; on Saturday it will be the turn of Terceira's sensation band, UZOHMS, followed by the Acoustics to close the night. On the last day of the event Manuel Moniz will be responsible for the musical entertainment. "We thought that this year it was important to promote this musical exchange, let's call it that, between Terceira and S. Miguel. UZOHMS are a very successful project in Terceira island and we are sure that they will conquer the people of Micael. It's one more way to complement Gorgeous' commitment to events such as Wine in Terceira and Wine in Azores" assures Joaquim Coutinho Costa.
Wine in Azores: mais de mil vinhos para provar em São Miguel